Fender has long been known to produce high-quality guitars, and this electric guitar is no different. While some people may confuse the Fender Starcaster Strat with their old Starcaster instruments, there are major differences. This is an affordable electric guitar that is worth a closer look if you are looking for a great entry instrument.
Our Fender Starcaster Strat Review
What Is the Fender Starcaster Strat?
This durable and attractive electric guitar offers the playability of more expensive Fender options without the high price tag. While it has been on the market for more than a decade, it does have a bit of a confusing backstory.
Originally, the Starcaster was a hollow body guitar that Fender released in the '70s. This guitar had a very curvy body but wasn't ever popular, due mostly to bad timing as well as misguided intent. The original Starcaster was discontinued after only four years of production.
Confusingly, Fender released new guitars in the early 2000s under the "Starcaster" name. These new guitars have nothing in common with the ones of the '70s, save for the Fender name, and they are thought of as a great entry-level instrument for new musicians.
Who Is the Fender Starcaster Strat Designed For?
Due to the value price tag that you'll pay when you buy a Fender Starcaster Strat, as well as the playability and lack of more advanced features and controls, this is a great electric guitar for beginners. It's considered an entry-level instrument by Fender, and it is a wonderful way to learn how to play electric guitar without an expensive commitment to another instrument.
This electric guitar is great for practice and for playing with a few people in a small group, but it doesn't have a lot of power. This is important to know, as it will severely limit your ability to play live and loud gigs. If you play for church on a regular basis and need to make sure that everyone in the congregation can easily hear you, then this guitar may not meet your needs.
Overall, this guitar is worth the money, as long as you know the limitations that you have when playing on it. Because it simply doesn't offer the power and clear tones of a more expensive guitar, you will be limited when playing it. Even when you use a high-quality amp and the right cables, it can be difficult to get the deep sound that you want.
As this guitar is designed for beginners, it's very easy to use and offers a comfortable fretboard that is easy to play on as well as tuning heads that will hold their sound and tone nicely. This will give a new musician a lot of confidence when playing.
What's Included with the Fender Starcaster Strat?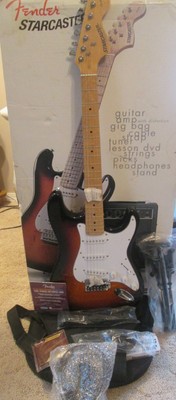 Ebay.com
To make sure that you can protect your new Fender Starcaster Strat, it's important that you buy a quality case. Because this instrument ships without a case, you will want to have one on hand when it arrives.
Also, to make playing your guitar easier and more enjoyable, a neck strap will be necessary, as will picks.
One thing that you do enjoy with this guitar is the quality and reliability of a Fender instrument, which means that your new Fender Starcaster Strat will be designed to meet your needs without damage, and it will last for years to come.
Primary Features of the Fender Starcaster Strat
The Fender Starcaster Strat includes quality tuners, a great fretboard, and stock strings that are surprisingly high-quality. In addition to these features, this guitar also includes:
Attractive white pickguard
High gloss body
Easy to turn knobs for adjusting the sound
While the fretboard is a nice size and is very easy to play on, there is varnish on the top that can cause your strings to buzz while you are playing. This is a trade-off that you will have to consider, as the smooth feel of the fretboard can work against you.
The tone knobs are not only easy to tune, but they align correctly with the numbers. Some other entry-level guitars have knobs that do not align correctly, and this can make it difficult and frustrating to get the tone that you want from your guitar.
Tuning your guitar is important and will result in the best sound, and the quality tuners are designed to stay in place and will prevent a tune change while you play.
Alternatives to the Fender Starcaster Strat
Even if you love Fender's Starcaster Strat, if you are looking for a guitar that comes with all of the equipment and accessories that you need to start playing right away, then you need to consider the Squire by Fender Short Scale Stratocaster with a bundle. This ships with an amp, tuner, extra strings, picks, strap, and even online access to Fender's free tutorials.
Another great option to consider is the Squire by Fender Affinity Stratocaster electric guitar. This is another great option for beginners and does cost a little more than the Fender Starcaster Strat, but is comfortable to play, offers modern and aggressive tones, and still allows you to enjoy the classic Fender sound that you crave.
By opting for either of these instruments you will have to pay a little more than you would for the Fender Starcaster Strat, but one comes with all of the accessories that you need to improve your playing right away, and the other is a more advanced and powerful instrument.
Conclusion – Should You Buy Fender's Starcaster Strat?
The Fender Starcaster Strat is a wonderful option if you are new to playing guitar and want to get started with a durable and rugged beginner guitar. Many users love the way that it plays and how easily they can plug it in and get started.
Unfortunately, as you progress and improve as a guitarist, you may struggle to make huge advances due to your guitar. In this case, you will want to upgrade to something a bit more powerful.
Fender's Starcaster Strat is designed to allow new musicians the confidence and equipment that they need to play. For performances and for more advanced use, however, there are better options.
I hope our Fender Starcaster Strat review has helped you.
Check out our list of the best electric guitars for worship.
advertisement